Today's Coffee of Choice: Starbucks Blonde Willow Blend
Today's Scripture: You will guard him and keep him in perfect and constant peace whose mind [both its inclination and its character] is stayed on You, because he commits himself to You, leans on You, and hopes confidently in You. – Isaiah 26:3, AMP
I first encountered today's guest during a Proverbs 31 online bible study with Melissa Taylor. As part of the study, all of the participants who purchased a book directly from Proverbs 31 Ministries received an autographed copy. This was before I was involved with Proverbs 31 in any way. I just happened to stumble upon Melissa Taylor's site in a time when I couldn't commit to any Bible studies through my local church. The book, Hidden Joy in a Dark Corner: The Transforming Power of God's Story, arrived with the author's signature and a Scripture which became so meaningful to me at that time of my life. I found out later that Wendy Blight, the author, had prayed over each book sent out as she signed them.
As I've gotten to know Wendy better, I've discovered her to be one of the sweetest, most sincere Christian leaders I've met in a long time. Her heart to lead women to the feet of Christ is one I admire. She facilitates a very successful small group ministry in her home church in Charlotte, North Carolina, and, because of her heart to lead women and her powerful story of survival, has been featured on Oprah Radio, The 700 Club, Family Life Today with Dr. Dennis Rainey, Revive Our Hearts with Nancy Leigh DeMoss, and Building Relationships with Dr. Gary Chapman. Her book details her journey from fear to freedom and offers a step-by-step Scriptural path to physical, spiritual, and emotional wholeness. Along with being a writer, Wendy is on staff with Proverbs 31 as a speaker. She is also a wife, a mom, and, a former Texas lawyer. (If practicing law in Dallas, Texas doesn't command respect, I don't know what would!) I have asked her to share about an aspect of one of the "Five C's of Leadership" I am always interested in: maintaining emotional strength while leading with character.
Wendy, thank you so much for being here with us today. Your perseverance and heart to reach out to women is such an example to me. I know you have learned a lot about what it means to have strength in leadership, particularly emotional strength, and I want to talk about that today. Let's start off our discussion by talking about the difficulties involved with this. What do you see as the single most difficult emotional aspect of being a Christian leader?
So much of ministry is a blessing, but I do experience times of great weariness. The time I invest in writing as well as studying, praying for Bible studies, and ministry planning takes much out of me mentally, physically and spiritually. But God is so faithful. He always provides encouragement and rest through His Word and through precious friends He has stationed around me to be my Aaron and hold me close in prayer.
When you are discouraged and still have to follow through on leadership responsibilities, how do you push through to accomplish everything those you lead depend on you for?
Spending time in God's Word and in prayer is vital. Calling upon godly friends to pray alongside me is also essential in this process. There is no better way to overcome discouragement. When women are counting on you, when deadlines are looming, you need a "sure thing." Prayer and "the Word" are always a "sure thing!"
I love your focus on prayer and Scripture! I'm sure you have seen many benefits of maintaining these priorities. What have you found to be the most rewarding aspect of Christian leadership?
Investing in women's lives for eternity! My single most favorite part of leadership is raising up leaders to walk alongside me so that together we work as a team to bring God's living and active word to broken and hurting women. This is one of my favorite things about being a part of Proverbs 31 Ministries. I love the incredible stories of transformation that come from these relationships. There is no greater joy!
I agree with you, Wendy. Seeing women's lives transformed from darkness and brokenness into what they were really meant to be is one of my favorite things to witness also! How have you been able to use personal emotional victories to enhance these vital relationships with the women you lead?
Sharing stories of God's great provision is one way I use these victories. For a leader to know she is not alone helps her get through difficult times and emotional lows. Hearing how God brought someone else through gives just the encouragement a leader needs. Although it is not related to my "emotional victories," I feel the time I spend every week in prayer for the women I lead definitely enhances our relationship and encourages them in their role as a leader.
Wendy, I appreciate you taking a few moments of your time to share your perspective with us. I keep your book on hand when I need to brush up on my own "emotional strength," and I also like to bless others with it as well.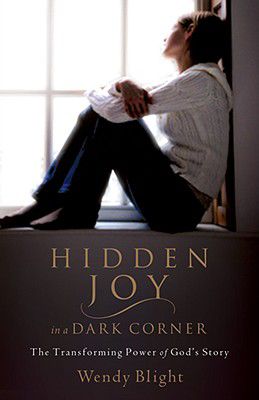 If you are interested in receiving a copy of Wendy's book, Hidden Joy in a Dark Corner: The Transforming Power of God's Story, please comment on this blog. I will give away one copy to everyone who comments by midnight of 1/31/13. Please make sure you include a valid way of reaching you so I can get you the book. I will not use your information for anything other than this giveaway. Thanks for reading my blog, and God bless you!